By
admin
Blu-ray movies are very popular in recent years, you may have purchased a lot of blu-ray movies, if you want to play them on the go, or clean up those physical discs but keep the content of Blu-rays on your HDD, you must rip them first. You may want to rip Blu-ray to MOV, MP4, AVI, MKV, FLV, or other formats on Mac and Windows computer. In this article, you will learn how to rip blu-ray to common videos easily, here we take MOV format for example, this format is space-saving and suitable for uploading to the video-sharing websites like YouTube and Google Video, or transfer to iPad, iPhone 5S/5C, Android tablets/smartphones for watching.
To convert the movie clips from proprietary disc into a set of MOV files, here we will use Blu-ray Ripper for Mac/Windows, which is a simple and user friendly Blu-ray ripping applicaton. It can remove the copy protection from your Blu-ray and convert the contents of the Blu-ray to MOV format, and it also allows you to backup Blu-ray movies to good quality WMV, MOV, MP4, or AVI, etc. for enhanced entertainment experience. If you are running a Windows computer, just use Blu-ray Ripper for Windows to convert Blu-ray to MOV video format or to a format that's playable on your iPhone, iPad, TiVo, Apple TV, or whatever device you might be using .
How to rip Blu-ray to MOV with Blu-ray Ripper?
Now, let's go to the tutorial about how to decrypt and convert Blu-ray to MOV flash video files on Mac step by step. Download this best Blu-ray Ripper firstly, and double click the software to install it following the installation wizard instructions.
Step 1: Import Blu-ray disc
With the program running and movie Blu-ray inserted into the computer's Blu-ray drive, just click on the "Load Blu-ray" button in the main menu across the top to load the Blu-ray files into this Blu-ray to MOV converter. Or just easily drag and drop Blu-ray files into the program window. The Blu-ray ripper can also rip Blu-ray folder, Blu-ray ISO, DVD disc, DVD ISO files.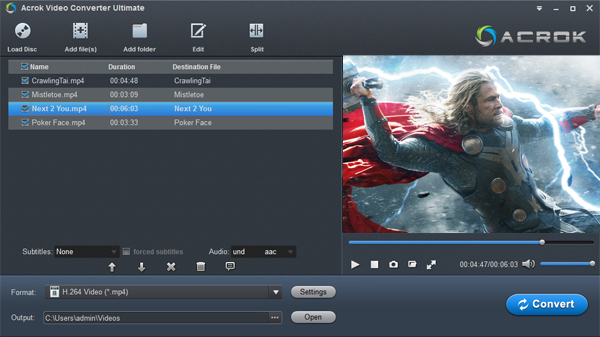 Step 2: Choose Your Video and Audio Settings
Click on the device icon at the right side of video processing list, and then it will switch to the following output file format choosing panel. Just select MOV, then the Blu-ray Ripper will rip Blu-ray to MOV format.
To simplify the process of choosing output settings, The Blu-ray to MOV converter provides a group of of presets on the left side. Just simply select on one of its presets and ignore all the other settings.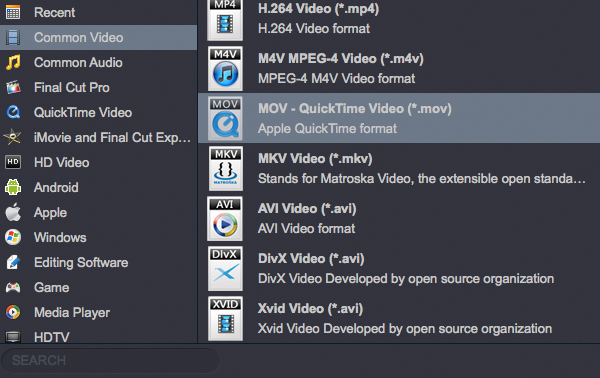 Besides, you can specify output MOV parameters: video codec, audio codec, video size, bit rate, aspect ratio, frame rate. If you don't know what you're doing, you can leave these at default.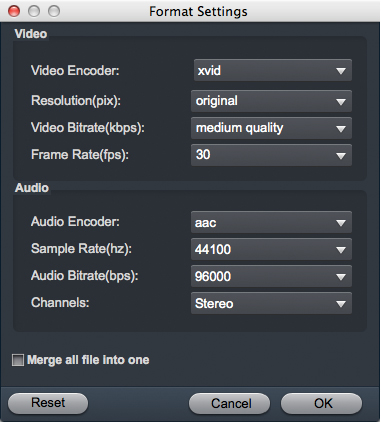 Step 3: Begin converting Blu-ray to MOV on Mac or Windows
You're now ready to rip. Click the "Convert" button in the bottom-right of the screen to start converting Blu-ray to MOV file. As the Blu-ray is being ripped to MOV file, you can follow the progress where the app adds a progress bar so you can monitor the % complete. The encoding time will vary relying on length of the movie and your PC performance, but it is generally pretty quick.
After the conversion finished, go to the output folder you selected earlier and you'll find the MOV files, and then you can use converted files as you want. Now please take a free try on this Blu-ray to MOV Ripper, hope it can bring you more enjoyment.
Tags: blu-ray to mov, blu-ray to mov converter, rip blu-ray to mov, convert blu-ray to mov on mac, blu-ray ripper mac