BRAW means Blackmagic RAW, and it's the internal file format for all Blackmagic cameras. BRAW is a brand new proprietary format from BMD which is not compatible with any of its predecessors such as CinemaDNG, Blackmagic RAW 3:1 or 4:1. If you got some footage from Blackmagic camcorder or camera, you may wanna learn the BRAW to Vegas Pro 19 best workflow as you wish a smooth post-production.
BRAW Unavailable in Vegas Pro 19
"A client gave me footage last minute shot on the Blackmagic Design URSA Mini Pro in 4.6k RAW (.braw). I am using Vegas Pro 19 and when I go to import the footage I get the error "codec missing or unavailable". What am I missing? How do I get the footage to read properly?" How do I Edit Blackmagic BRAW files with Vegas Pro 19 or the lower versions?
As you see, when importing BRAW to Vegas Pro 19, 18, 17, 16, 15, etc, it shows codec missing or unavailiable. To quickly solve the issue, you'd try transcoding BRAW to someting you're comfroatble with editing using Vegas Pro.
BRAW to Vegas Pro Workflow
Actually, you can't do that directly, because Vegas Pro doesn't yet support BRAW format natively. To work around that issue, you have the following choices:
1. Convert BRAW to MP4. You can implement BRAW processing / editing with Davinci Resolve 17 software and output H.264 for further NLE or grading in Vegas Pro 19.
2. Convert BRAW to ProRes. With Fast CinemaDNG Processor software you can convert BRAW to CinemaDNG to process CinemaDNG in a standard workflow with Premiere or any other software. There is also a BRAW-to-ProRes converter feature.
But we found there are still some issues when using the rendered or converted videos in Vegas Pro. To edit the footage in Vegas Pro 19 smoothly and without any problem, you'd better transcode these videos to MPEG-2 codec with Acrok Video Converter Ultimate. It's the top 8K, 6K and 4K Video Converter. With it, you can convert rendered and converted BRAW files to Vegas Pro best editing format – MPEH-2 MPG.
How to convert rendered/converted BRAW to MPEG-2 with Acrok?
Step 1. Download Acrok Video Converter Ultimate and get it installed.
This program spells simplicity, efficiency and quality. It lets you transcode rendered/converted BRAW to MPEG-2, Apple InterMediate Codec, Apple ProRes, DNxHD and more. This is a smart tool specially designed for camcorder/camera users to preview and convert 8K/6K/4K as well as Full HD recordings to your wanted video and audio formats, so as to smoothly add them into Premiere Pro CC, Premiere Elements, iMovie, Final Cut Pro X, Avid Media Composer to do further editing.
Free download and try Acrok Video Converter Ultimate
Step 2. Launch BRAW video converter, and click the "Add Files" button to load rendered/converted BRAW videos for converting.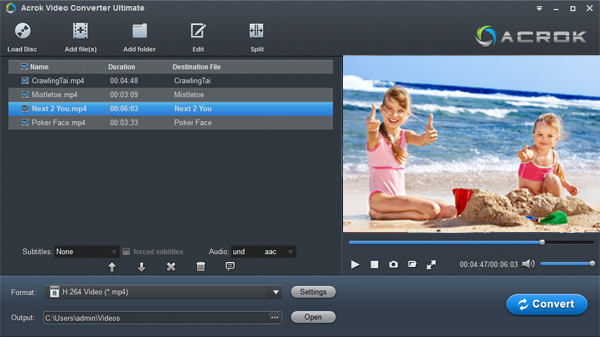 Step 3. Click "Format" bar and then move your pointer Editing Software > Sony Vegas -> MPEG-2(*.mpg) as target format.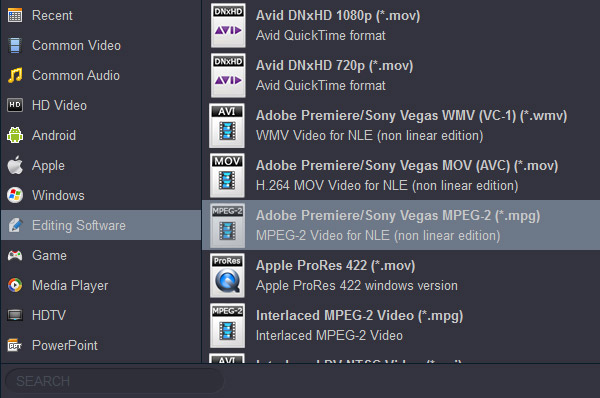 Tip: If the default settings do not fit your requirement, you can click "Settings" icon and enter "Profile Settings" panel to adjust video size, bit rate, frame rate, sample rate and audio channels. 4K would be the best settings. Of course, if you wanna get BRAW orginal resolution workflow in Vegas Pro 19, you can keep the original video resolution.
Step 4. Tap "Convert" button to start converting video files to MPEG-2 for Vegas Pro 19 under Windows 11, 10, 8.1, 7, etc. Once the conversion is done, you can simply import BRAW 4K footage into Vegas Pro for further editing.