How to get DaVinci Resolve 17 working with 4K MXF footage perfectly? How to edit 4K MOV in Premiere Pro CC smoothly? Can I load 4K MP4 into Final Cut Pro X on macOS 12? Why I can't import 4K recordings from my Lumix GH6 to Vegas Pro 19?
4K has come to our life and there's been a lot of talk and controversy about 4K smart TV, smartphone and camcorders. As we all known, video quality is one of the most factors that many people concern. So the 4K video is more and more popular with many people. If you've got some 4K Ultra HD MOV, MP4, MXF videos, but have no ideal how to work with them in DaVinci Resolve, Vegas Pro or Final Cut Pro X, you are in the right place. This page will give you some tips and tricks how to play, edit 4K videos in a simple way.
4K footage looks amazing but usually it can make video editing a real nightmare. You may get a latest 4K cameras/camcorders like the Lumix GH6, GoPro Hero 10, Sony a7S III, Canon EOS R5 C, Blackmagic URSA Mini Pro, DJI Ronin 4D, RED DIGITAL CINEMA KOMODO… meanwhile your computer freezes when editing 4K video in editing software.
Learn from Apple, Adobe, Blackmagic Design and Magix official site, we know that their editing software has been updated for the next-generation architecture in the new system, providing unprecedented performance when editing and monitoring 4K video.
If you got some 4K video from the lastest cameras or camcorders, you will be eagerly know the 4K video workflow. This article focuses on 4K video to FCP X, Premiere Pro CC, DaVinci Resolve, iMovie and Vegas Pro workflow.
Based on our testing, playing back 4K video without frame drops requires extremely FAST hardware. If your system is not using a fast i7 or better processor with an SSD & fast video card you probably cannot play & edit 4K video smoothly. What's more, your ediitng software has certain requirements for input video formats, not all 4K video formats are accepted by your software well. In view of this, you're highly suggested to convert 4K footage to your software preferable video format. To achieve the goal, a professional 4K Video Converter is the key and Acrok Video Converter Ultimate is the most ideal choice for you.
Free downlaod best 4K Video Covnerter for Mac/Windows
How to covnert 4K MXF, MOV, MP4 for editing in Vegas Pro, Premiere Pro, Avid, DaVinci Resove, FCP X, iMovie smoothly?
1. Load 4K footage
Install and run Acrok Video Covnerter Ultiamte as the 4K video conversion software on your PC. Drag and drop the 4K MXF, MOV or MP4 files to the Converter. You can play the loaded video files with this free 4K media player.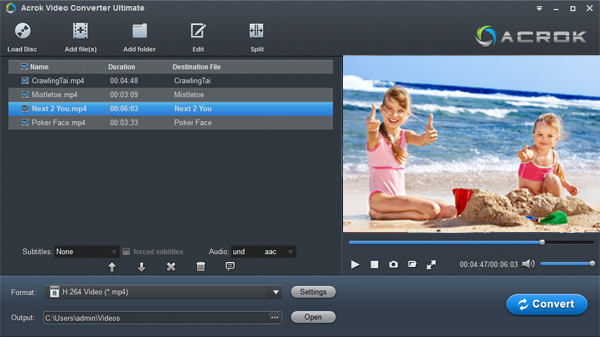 2. Set output format
Click on the Format box to get the dropdown menu. Select output format. For Windows users, you can select output format under "Editing Software" category.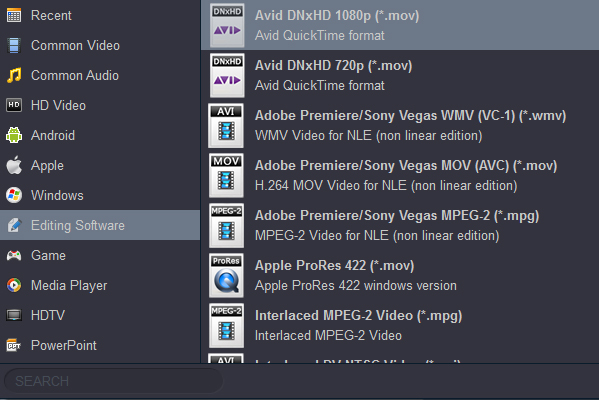 If you are Mac user and want to edit 4K videos in Final Cut Pro X with it's native supported codec, please select Apple ProRes MOV as output format.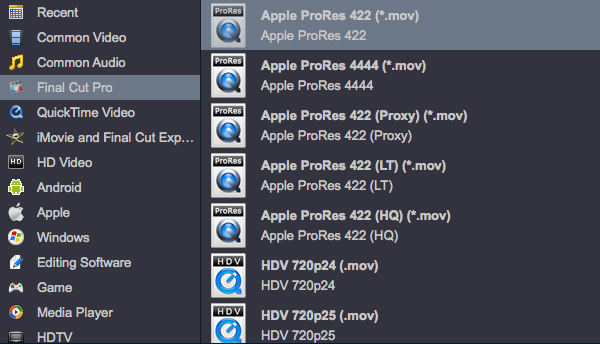 3. Settings
Adjust video and audio parameters, including the Bitrate of Video and Audio, the Codec of Video and Audio, Video Size, Sample Rate, Frame Rate, Audio Channels, etc., in the Profile Settings to get 4K files converted for working with FCP X, Premiere Pro CC, Vegas Pro 18, DaVinci Resolve 17, Avid Media Composer, iMovie smoothly. You'd better adjust original 4K video to HD quality. If your computer configuration is powerful enough, you can also keep the original video resolution.
4. Start 4K video covnersion
Hit the convert button of the best 4K Video Converter. It will start converting 4K for importing to your editing software immediately. Soon after the conversion, just click "Open" button to get the generated files for natively editing in editing program perfectly.
Tip: 5 Best 4K Video Editing Software in 2022 [Windows & Mac]
PowerDirector
Final Cut Pro X
Adobe Premiere Pro CC
Pinnacle Studio
Vegas Pro