I have a question regarding importing Sony FX3 XAVC footage into Premiere Pro… What I do is, I Premiere Pro link them and then transcode it to Adobe format but this procedure takes ages … I was wondering if there's a simpler or another way of doing it quickly?
My family used to spend a lot of quality time together, and we took so many videos during our leisure time, mostly in XAVC .mxf format. You know it is a Sony PXW-Z150. Truth be told, not all videos taken are satisfactory but we did not realize that at that time and now we want to edit the videos to make them more of our style, like trimming the length, cropping the size, etc. Premiere Pro is a good choice as far as I am concerned. Is there anybody to help me to learn how to edit 4K XAVC files in Premiere Pro CC? Much appreciated!
Although Adobe claimed that Premiere Pro offers native XAVC support, there are still some video, audio codec problems while importing XAVC clips into Premiere Pro for further editing. Plus, even the Premiere Pro CC can ingest your XAVC files directly, it takes a long time for rendering. This place is exactly right for you. This article aims to guide users to edit XAVC files in Premiere Pro and introduce a competitive alternative to edit videos later on.
XAVC to Peemiere Pro Workflow
What software can be used to convert all XAVC files to Premiere Pro for editing? XAVC is a recording format that was introduced by Sony on October 30, 2012. XAVC is a format that will be licensed to companies that want to make XAVC products. XAVC can support 4K resolution (4096 × 2160 and 3840 × 2160) at up to 60 frames per second (fps). The Material Exchange Format (MXF) can be used for the digital container format. Premiere Pro can only import some kinds of data contained within XAVC files. So if you happened to your Premiere Pro can not read your XAVC files, you need a XAVC Video Converter to help you convert them.
XAVC to Premiere Pro Converter
Acrok XAVC Video Converter is current the best and most reliable XAVC to Premiere Pro Converting tool, which can help you convert all XAVC files from Sony PMW-F55, PMW-F55, Sony PXW-Z150, Sony PXW-Z190, Sony PXW-X70, Sony PXW-FS7, Sony PXW-X500, Sony PXW-Z90V, Sony VENICE, Sony FX3, Sony FX6, etc to WMV, MOV, MPEG, MP4, etc for editing in Premiere Pro CC, CS6, CS6 with best quality, fastest converting speed, excellent A/V sync and so on. And you can also convert XAVC files to friendly video formats just like flv, wmv, 3gp, mkv, m4v, avi, etc for playing on your smartphone, tablet, smart tv, PlayStation 5, XBox Series X, Apple TV, etc.
Free download XAVC to Premiere Pro Covnerter
Follow the step to convert MXF files to MOV for Premiere Pro now.
Step 1: Download and install the XAVC to Premiere Pro Converter, add your XAVC file by clicking "Add file" menu or cliaking "Add folder" icon in the main interface.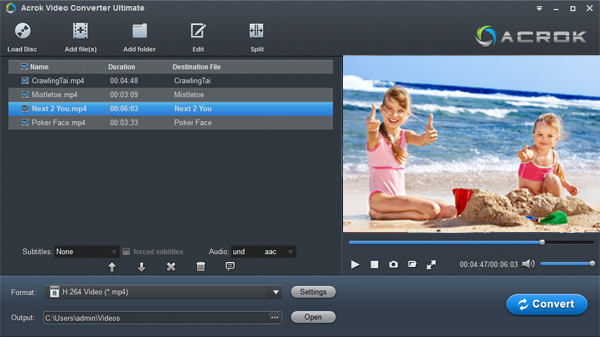 Step 2: In "Format" drop down list box, you may select output format. The software allows setting different output formats according to different files. If you like to convert XAVC to MOV for editing in Premiere Pro, please just select MOV, if you like to convert XAVC to MPEG-2 MPG for importing to Premiere Pro CC/CS6/CS5, please just select MPG, etc. All output videos will keep the original quality of XAVC video and seamlessly fit Premiere Pro. Personally I like to choose MOV.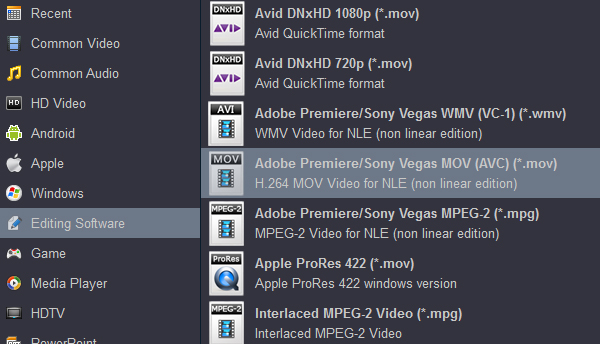 Step 3: Now let's select the output folder by clicking the "Output" icon.
Settings: The default setting works well. Of course, if you want to customize video and audio encoding settings, just click the "Settings" button to customize these settings. You can adjust the output video/audio resolution, frame rate, bit rate, etc. to customize the output files to get the best quality you want.
Step 4: Finally, click "Convert" in the main interface to start the XAVC files to Premiere Pro conversion. The function of shut down after conversion can spare you from being stuck in front of your computer. So why not check it and have a cup of coffee.
Hope the article can help you import XAVC files to Premiere Pro for editing successfully.
Hot searchs: import xavc into premeire pro, edit xavc in premiere pro, convert xavc for premiere pro, open xavc in premiere pro, convert xavc to mpeg-2 for premiere pro