Samsung tracking software to monitor and spy on Galaxy S22 Ultra or other Samsung smartphone's Text Messages, Emails, Location, Calls! Best spy software to keep your business and family safe.
The Samsung Galaxy S22 Ultra represents a modern symbiosis of the Galaxy S21 Ultra and the Galaxy Note20 Ultra, with the manufacturer choosing an appearance of the Note series. A 4-camera system with a long-range periscope zoom lens, a built-in S Pen that doesn't come at the expense of battery size, the latest and most powerful Android processor, the newest generation Samsung AMOLED display. While Phantom Black, White, Green, and Burgundy are available from various vendors, Graphite, Red, and Sky Blue remain reserved for the Samsung online shop. Can wen spy on someone's Galaxy S22 Ultra without anyone knowing? I'll sahre the best Galaxy S22 Ultra spy app with you.
Keeping your children and grandchildren safe is priority number one. Thanks to internet, tablets and the smartphones, there are many potential threats to them that you might not see coming. They could be using one of these dangerous apps or be in contact with an online predator and you wouldn't know.
That is why I encourage parents to talk to kids before they use technology and set clear rules. You should also be regularly checking their gadgets for dangerous apps and conversations, as well as monitoring their social media accounts.
Spying has become a need for many people. It not only allows you to know what the user of the target phone is doing, but also enables you to be at peace that they are not in danger and are doing the right thing at the right time. This article explains a simple, efficient and easy way to remotely spy on Messaging Chats accounts. How to spy on Galaxy S22 Ultra remotely? The most powerful and undetectable Samsung Spy App is your best choice.
Free download Samsung Spy Software here.
Samsung Galaxy S22 Ultra Spy App. Simple way to track GPS, phone calls, text messages and web activity on Galaxy S22 Ultra.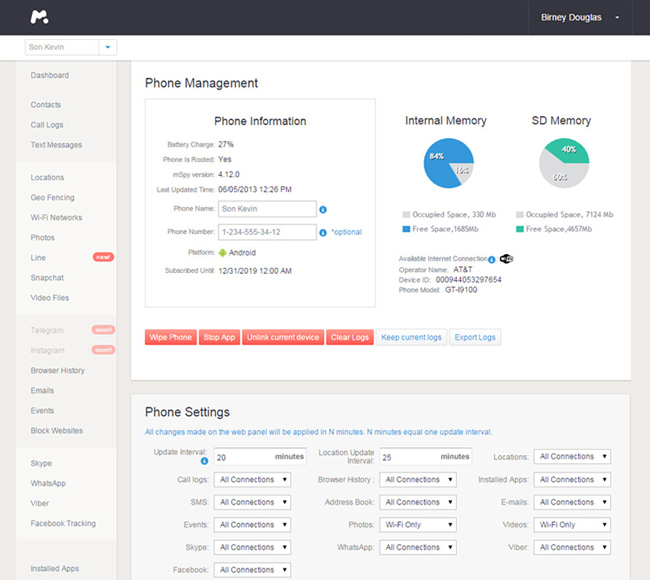 Galaxy S22 Ultra Spy Software Features
Spy Camera
Take pictures remotely with Android cell phone tracker. Turn on Galaxy S22 Ultra's rear camera remotely. Remotely activate both the front and back Galaxy S22 Ultra phone camera to take a photo, which will be uploaded to your web portal.
Galaxy S22 Ultra Live Call Listening
Galaxy S22 Ultra monitoring app allows you to listen live calls happening on the target phone. You can receive a secret SMS alert when call started. If you then call the target phone from pre-defined number, you will be added to the live call.
Spy on Chat Apps
Spy on over 16 popular Android messaging apps, including WhatsApp, Snapchat, Facebook Messenger, Viber, Skype, Hangouts, Tinder, and many more. See chats in both ways including the stickers, status, profiles, pictures, locations, and emoticons.
Live Call Recording
Galaxy S22 Ultra Spy Software records phone calls in hidden sound files and uploads these files to your web account. You can listen or download recorded files anytime. You can choose all or specific phone numbers to be recorded automatically.
Listen To Surroundings
Hear what's happening around the phone. Remotely open target phone's microphone to listen the Galaxy S22 Ultra' surroundings. Use the target phone like a bugging device. Listen conversations in the room, etc. Hear what's really happening!
Record Phone Surroundings
Remotely enable the target Galaxy S22 Ultra's microphone. Set the ambient recording to recorded immediately or scheduled. Surroundings voices will be recorded and files will be uploaded to your web account. You can listen or download at anytime.
Spy on SMS
Galaxy S22 Ultra spy software captures text messages sent or received on an Android phone, even those that may have been deleted. See details such as contact names and numbers associated with SMS messages including date and time.
View Media Files
Android spy software allows you to access all media files on their Android phone remotely. Get all images they take or that are already on their Galaxy S22 Ultra phone. Hear all audio and voice memos. Even if they delete media files, you will still have a copy on your web account.
Spy on E-mails
Galaxy S22 Ultra cell phone spy allows you to know exactly what is being sent or receive on their Galaxy S22 Ultra phone. Android email tracker captures all their email messages. If the e-mail address is in the phones address book, the contact name will also be available.
Galaxy S22 Ultra Keylogger
See everything that's being typed. Android keylogger lets you see everything that's typed on the Galaxy S22 Ultra's keyboard. Discover search terms, notes, passwords and more. Captured keystrokes automatically uploads to your web account to view and download.
GPS Location Tracking
Galaxy S22 Ultra spy app uses GPS positioning to show the coordinates of the Galaxy S22 Ultra phone. Location linked the map inside your web account and display a path of travel between certain time periods. Export paths for use in other applications like Google Maps.
3 easy steps to monitoring Galaxy S22 Ultra with Samsung spyware
1. Buy Galaxy S22 Ultra spyware
Select one of the Samsung Spy Software subscriptions and fill out the order form. Complete your payment and check your email for the installation instructions.
2. Install and Set Up
After purchasing the software, you will receive an email. There is a detailed introduction to how to install the software. Download Galaxy S22 Ultra Spy App and install the mobile tracking software onto your child's phone. Please note: Premium features require rooting your Galaxy S22 Ultra.
3. Start Tracking
Log in to Galaxy S22 Ultra Monitoring App Control Panel on a PC, tablet or smartphone to start monitoring calls, texts, GPS location, apps and any other activities taking place on the monitored device.
That's all, you can track a Galaxy S22 Ultra with own smartphone easily.