What you can do to kill time on a long distance to work? Watching movies with your Android phone or Android tablet would be a nice choice. If you have a large collection of Blu-ray discs, you can get movies off the Blu-ray discs to your phone or tablet. There is no need to bring the Blu-ray disc and player around you. You can enjoy classic Blu-ray movies on any Android device whenever and wherever you like.
The problem is how to rip Blu-ray toAndroid. There is no such a Blu-ray drive in your portable Android device. You need to convert Blu-ray to Android to get a digital copy. Which Blu-ray to Android ripper does a good job? You can get the complete tutorial to copy Blu-ray to Android from the following paragraphs.
Part 1: Rip Blu-ray to Android Supported Format
There is nothing better than a free Blu-ray ripper. It is Acrok Video Converter Ultimate that can help you rip Blu-ray to the latest Android device with fast speed and excellent quality. You can also extract audio files within the Blu-ray to Android converter. The batch conversion support allows users to rip Blu-ray movies in a short time. Moreover, you can adjust video and audio settings before ripping Blu-ray to Android playable formats.
Free download and try Blu-ray to Android Converter
Rip Blu-ray to Galaxy Note 20, Galaxy S21, OnePlus 9 Pro, Google Pixel 6, Oppo Find X3 Pro, Sony Xperia 1 III, Amazon Fire HD tablet, Galaxy Tab S7, Sony Android TV and almost all portable devices.
Rip Blu-ray movies to MP4, M4V, MKV, FLV, MPG, MOV, AVI, WMV and other 4K/HD and common video formats.
Adjust video encoder, frame rate, resolution, aspect ratio, bitrate and other settings.
Convert, Blu-ray/DVD/Video to MP3, AAC, AC3, M4A, etc., audio formats for free.
The Blu-ray to Android converter freeware works with Windows and macOS.
Transcode MXF, MOV, MP4, MTS footage for editing in FCP X, Vegas Pro, Premiere Pro, DaVinci Resolve, etc.
Step 1: Free download, install and launch Blu-ray to Android Ripper. Insert the Blu-ray disc into the Blu-ray drive. Click Load Disc on the top toolbar to load Blu-ray disc movies to the program. You can import Blu-ray folder or ISO files to convert to Android too.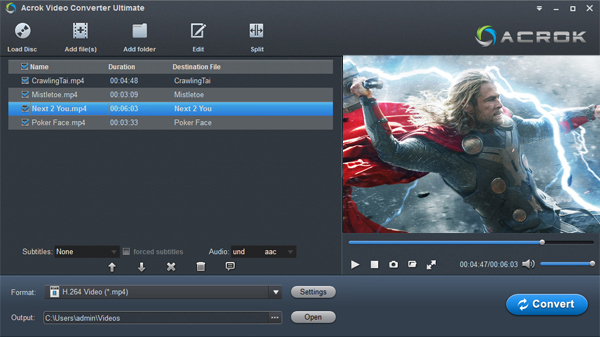 Step 2: Unfold the Format list. Navigate to the Android Profile to get the Android tablet and Android phone compatible formats. You can also set the output format from Common Video or HD Video based on your need.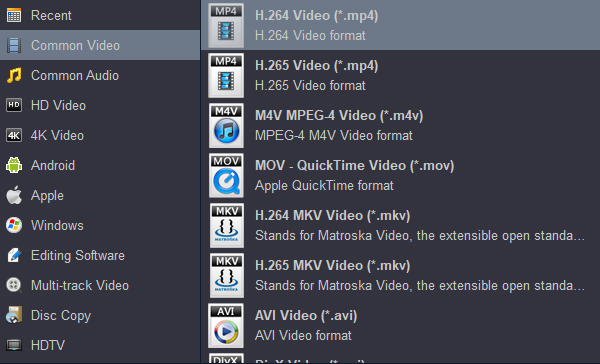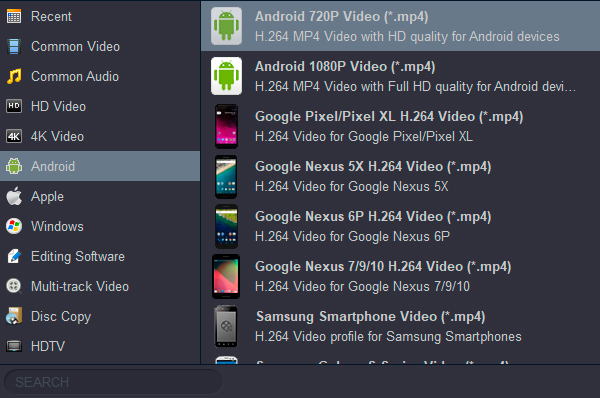 Step 3: Click Settings near the bottom to adjust profile settings. You can click Browse to change the destination folder. At last, click Convert to rip Blu-ray movie to Android devices. When the conversion is done, you can click "Open" button to locate the converted Blu-ray files.
Part 2: Transfer the Blu-ray Movies to Your Android
Now you need to transfer Blu-ray movies to your Android tablet or phone. You can use USB cable to move photos, music, and other files between your computer and Android device.
Transfer video from Windows Computer to Android:
Unlock your phone.
With a USB cable, connect your phone to your computer.
On your phone, tap the "Charging this device via USB" notification.
Under "Use USB for," select File Transfer.
A file transfer window will open on your computer. Use it to drag files.
When you're done, eject your phone from Windows.
Unplug the USB cable.
Transfer video from Mac Computer to Android:
Note: Your computer must be using Mac OS X 10.5 and up.
Download and install Android File Transfer on your computer.
Open Android File Transfer. The next time that you connect your phone, it opens automatically.
Unlock your phone.
With a USB cable, connect your phone to your computer.
On your phone, tap the "Charging this device via USB" notification.
Under "Use USB for," select File Transfer.
An Android File Transfer window will open on your computer. Use it to drag files.
When you're done, unplug the USB cable.
Tip: We used to use Blu-ray player to play Blu-ray discs on out TV, most TVs and Blu ray players now have USB interfaces. So we can transfer the ripped Blu-ray movies to a USB flash drive or a SD Card, then play Blu-ray movies on TV with USB.
Part 3: Free Blu-ray Player Software for Windows and Mac
Since Android is not equipped with a built-in Blu-ray drive, you can use an external Blu-ray player for Android to read Blu-ray discs. Then how about the desktop Blu-ray player? Fortunately, you can use Acrok free Blu-ray player software to play Blu-ray discs on Windows and Mac, as well as popular video formats. No matter you use an internal or external Blu-ray drive, you can watch Blu-ray movies with 100% image quality for free. In addition, you can play disc movies in full, half, normal or double screen modes to get full pleasure.
Conclusion
That's all for how to rip Blu-ray to Android devices. You can make a digital copy for backup via the above method too. Thus, even though your Blu-ray disc is badly damaged or broken, you can still access the Blu-ray content on any portable device. Be aware that it is illegal to share your ripped Blu-ray movies with others or post the ripped Blu-ray content online. If you still have questions about playing Blu-ray on Android tablet, phone and smart tv, you can feel free to contact us.
Part 4: FAQs of Ripping Blu-ray Movies to Android
1. Can I watch Blu-ray movies on my Android tablet, smartphone?
No, you can't. Because Android tablet/phone has no Blu-ray optical drive, but it has limited support for some digital file formats. The possibility of watching a Blu-ray movie on Android is to rip your Blu-ray movie to Android supported video format.
2. Can we stream Blu-ray video to Android directly?
Unfortunately, there is no way to insert a disk into the Android tablet and smartphone. However I would recommend using an application like Acrok Blu-ray Ripper software, available for both Windows and Mac and creating a digital version of your Blu-ray, then you can import the movie onto your Android device.
3. Can I connect my Androir device to my Blu-ray player?
No. Blu-ray player doesn't offer this functionality in conjunction with an Android phone/tablet. But you can connect your Blu-ray player to you Android TV. Then you can play your Blu-ray discs on your Android TV.
4: Can I transfer Blu-ray to my Android tablet directly?
No. You can't copy and transfer the Blu-ray files to Android device for playing on the go. It's very clear that if you use external sdcard which is formatted as fat32 it won't let you copy and transfer files greater than 4 gigs directly onto them.
5. How to connect Blu-ray player to Android tablet?
It is impossible to connect the Blu-ray player hardware to your Android tablet, because the Android tablet cannot load the Blu-ray drive. For playing the Blu-ray discs on Android tablet, you have to convert the Blu-ray disc into the Android tablet compatible formats.