Have you got a action camera like GoPro Hero 9 and recorded some exciting 5K videos? Do you want to import 5K MP4 files from GoPro Hero 9 to Premiere Pro (CC, CS6, CS5) and edit with native supported codec? In this article we will share the best GoPro Hero 9 Premiere Pro editing workflow, and you will get the best 5K video converter to transcode H.265 MP4 to MPEG-2.
The GoPro HERO 9 Black is the newest flagship model to join GoPro's range of industry-leading action cameras. GoPro Hero 9 is an excellent action camera that can capture high quality 5K videos in MP4 format, this camera is very popular among video fans. It's also worth mentioning that the Hero 9 uses HEVC H.265 video encoding for a number of its resolution and frame rate options, including 5K recording. While this is great for storage efficiency it can be an issue for compatibility as older computers and smartphones may lack the ability to playback the H.265 files natively. By the way, H.265 Is NOT An Editing Codec. It's a Distribution Codec.
What's the best GoPro Hero 9 Premiere Pro editing workflow?
"How can I load 5K MP4 files recorded by GoPro Hero 9 to Premiere Pro CC and edit smoothly? Not long ago I purchased the GoPro Hero 9 camcorder to record meetings for my company, today I have to load some of the clips into Premiere Pro and edit them, it's the first time for me to record 5K videos, when I tried to load them into the software, I found the recordings can't be supported by Adobe smoothly, is there something wrong with the workflow? I searched on the internet and knew I may need to convert GoPro Hero 9 H.265 to Premiere Pro MPEG-2 or H.264 codec, is it right? Any suggestion is appreciated, thanks!"
The above question is asked by a GoPro Hero 9 user, he want to load recordings from GoPro Hero 9 to Premiere Pro and edit smoothly, if you have this acrion camera you may also have this kind of need, because Premiere Pro is the most popular editing software on PC, most users choose Premiere Pro as their main video editor. GoPro Hero 9 can record 5K videos and save to MP4 format, if you have tried to load 5K MP4 files from GoPro Hero 9 to Premiere Pro CC, you will be disappointed to find that the MP4 videos can't be supported by Premiere Pro CC, CS6, CS5 smoothly, the issue is caused by the video codec, the H.265/HEVC codec used by GoPro Hero 9 is good for playing, but it is not good for editing with Premiere Pro. From Adobe user manual you will know that only MPEG-2 and H.264 is the native editing codec, in this case, if you want to edit GoPro Hero 9 footage with Premiere Pro natively, you will need to convert H.265 to MPEG-2 or H.264 via a professional video conversion software.
Best Video Converter for GoPro Hero 9
Acrok Video Converter Ultimate (For Windows | For Mac) is the recommended software to convert video from any camera/camcorder to Premiere Pro native video format and codec. It is the best 8K/6K/5K/4K video converter on the market, which can convert GoPro Hero 9 5K MP4 files to any formats you need and maintain original resolution and high quality. Besides recorded footage, you can also use it to convert purchased Blu-ray discs or DVD discs to unprotected video formats like MKV, MP4, MOV, AVI, etc. this is very powerful all-in-one converter.
How to convert GoPro Hero 9 MP4 for editing in Premiere Pro CC?
Step 1. Download Acrok Video Converter Ultimate, install this MP4 to Premiere Pro converter on your computer. Both Mac version and Windows version are available to use.
Step 2. Run this 5K video converter and it will show the main interface, this GoProHero 9 to Premiere Pro converter is brief so it is very easy to use, you can get your videos converted in few clicks. To load video files into the program, you can click "Add Files" button, or load the videos directly by drag and drop.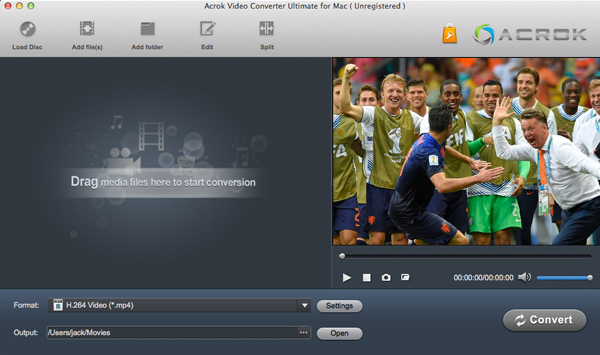 Step 3. Choose MPEG-2 codec for output. Click format bar you can see there are many optimized output formats, you can choose the output format according to your need. As MPEG-2 codec is the best codec for Premiere Pro, here you can choose Editing Software -> Adobe Premiere MPEG-2 (*.mpg), with this codec you can edit GoPro Hero 9 files with Premiere Pro smoothly.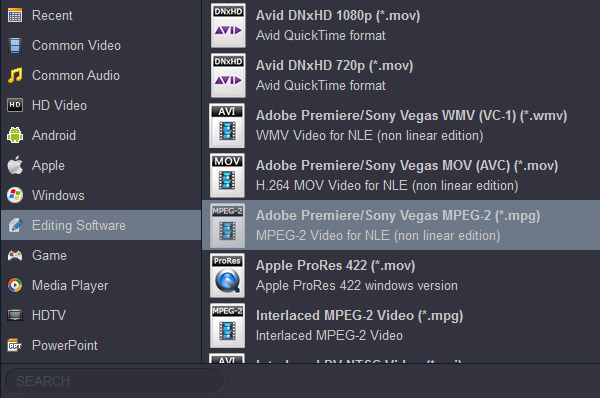 Step 4. This GoPro Hero H.265 video converter also offers easy-to-use customization feature, if you want to change the output parameters, you can click "Settings" button on the main interface, and then you are available to adjust the resolution, bitrate, frame rate, etc. just change them as you want.
Step 5. Click convert button to start GoPro Hero 9 H.265 to MPEG-2 conversion. Acrok software will convert the loaded videos with top speed and quality, video and audio synchronization is perfectly guaranteed, when the conversion is finished, you can click "Open" button to get the converted videos, and then you can import them into Premiere Pro CC, CS6, CS5 and edit the footages natively, there will be no issues anymore.