Watching Blu-ray is still a favorite means of entertainment for many people. Is it possible to play Blu-rays on iPad Air 5 so that we can enjoy Blu-ray movies on the go?
Since there isn't a built-in disc drive, iPad Air 5 cannot play Blu-rays directly. Well, can we connect an external Blu-ray drive to an iPad Air 5 and download an iPad Air 5 Blu-ray player app? It is possible if your device supports USB OTG system. However, iPad Air 5 don't support OTG, so they don't support an external Blu-ray drive/player. And there is no Blu-ray player app for iPad Air 5. To watch Blu-ray on iPad Air 5, you can rip Blu-ray to iPad Air 5 playable format. In this article, we'll show you how to digitize Blu-ray for iPad Air 5 and sync the digital copy to iPad Air 5 for playback on the move.
Part 1: Download The Best Blu-ray to iPad Air 5 Ripper for PC/Mac
A Blu-ray to iPad Air 5 converter is badly needed if you want to put Blu-ray movies on iPad Air 5. There are many Blu-ray rippers/converters, but which one to choose? Since most Blu-rays are commercial and copy-protected, we'd like to recommend a Blu-ray ripper that can bypass region code and copy protection schemes, namely Acrok Video Covnerter Ultimate. It is very competent at unlocking Blu-ray copy protection built either in homemade Blu-rays or commercial Blu-rays.
It provides optimized presets for all popular iOS devices, such as iPad Air 5, iPhone 13 Pro Max, iPAd Pro and iPAd mini.
In addition to ripping Blu-ray to iPad Air 5, Acrok Blu-ray Ripper can also convert Blu-ray to iPhone 13 Pro Max, TV, PC, Mac, YouTube, Galaxy S22, Xbox Series X, PlayStation 5, Valve Steam Deck, MP4, MOV, MP3, ISO, and so much more platforms and formats.
Blu-ray ripping will not damage your original Blu-rays. Just feel free to download Acrok Video Converter Ultimate and use it to create a high-quality digital copy for viewing on iPad Air 5.
Part 2: How to Rip Blu-ray to iPad Air 5
Once you have installed Acrok Video Converter Ultimate on your computer, you can follow the steps below to convert Blu-ray to iPad Air 5 format. The whole ripping process is very simple.
Step 1. Insert your Blu-ray into disc drive and click "Load Disc" button on the main interface of Acrok Blu-ray ripping software to select and load the Blu-ray disc into this program.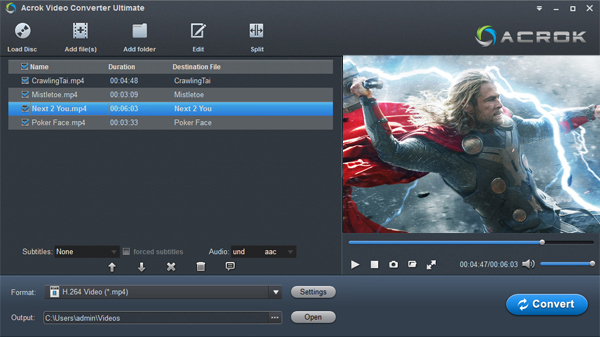 Step 2. Choose iPad Air 5 best playback format. When the Blu-ray video is fully analyzed and imported, it's time to choose proper iPad Air 5 supported video format. You can go to "Common Video" and choose "H.264 Video (*.mp4)", or scroll down to "Apple" category and choose a preset that matches your iPad Air 5. Alternatively, you can make it clear of your iPad Air 5 supported video formats and then choose an identical or approximate one among the profile items like "MP4 Video".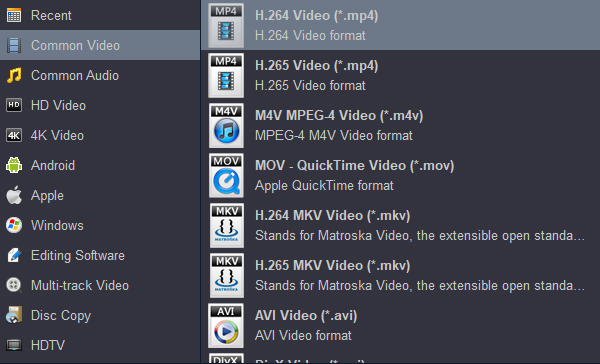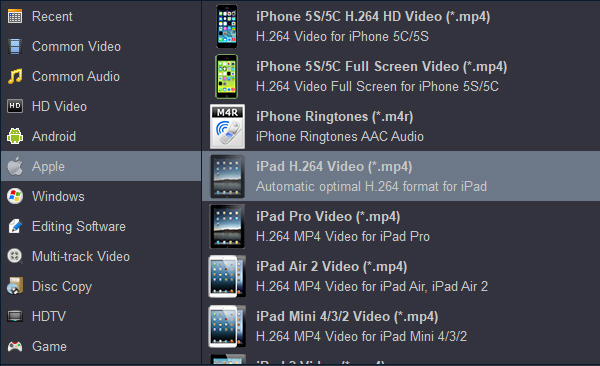 In addition, many advanced setting options are provided to make the output video more of your taste, e.g video/audio codec, quality, frame rate, resolution, subtitles and audio volume.
Step 3. Click "Output" icon to select an output folder to store the resulting file.
Step 4. Stat ripping Blur-ay for iPad Air 5. Press " Convert" button on the right bottom to begin converting Blu-ray to iPad Air 5 format. Once done, you can sync the Blu-ray riped file to your iPad Air 5.
Part 3: How to sync ripped Blu-ray movies to iPad Air 5
Ways to Sync videos to iTunes:
Once you ascertain that the conversion is successfully completed, you can import the file anywhere you wish to even in the media player as long as the file is iTunes friendly. First, locate the output file where you have saved the videos. Then open the iTunes app so that you can import the output videos to it. This can be done by dragging and dropping the media file. The process is simple all you need is:
Step 1. Click "File" menu on the left side of iTunes toolbar
Step 2. Choose the "Add File to Library" option
Step 3. Open the output folder that contains the videos
Step 4. Select the file and click "Open".
You may also need to read:
Import and edit Lumix GH6 videos in Final Cut Pro X
How to play MKV, AVI, MP4 movies on Galaxy S22
Import 4K H.265 from Sony a7 IV to Final Cut Pro X
Transfer MKV, AVI, MOV, MP4 to Valve Steam Deck