Obviously, in order to play Blu-ray on Windows 11 computer, you will need a Blu-ray player software that perfectly works on Windows 11. Not only that, a good Blu-ray player should help you play any regions of Blu-ray discs, also support importing Blu-ray folder and Blu-ray ISO file. So, how to find the best Blu-ray player for Windows 11 and how to play Blu-ray on Windows 11? Read on for details, hope this article could help.
Part 1: How to play Blu-ray disc and Blu-ray folder on Windows 11?
Part 2: How to watch Blu-ray ISO movies on Windows 11?
The Best Blu-ray Player Software for Windows 11
Acrok Video Converter Ultimate is an excellent free Blu-ray player software in the current market. It might be one of the best one. This program is specially designed for helping you play encrypted 1080P Blu-ray disc, Blu-ray ISO file, and BDMV folder on the computer including Windows 11 OS. It won't be restricted by the Blu-ray regions. The visual experience will never let you down when playing Blu-ray disc with it.
More than that, if you not only own Blu-ray disc but also have DVD disc, you don't need to find yourself a new DVD player for Windows 11, you can enjoy DVD disc by using VideoSolo Blu-ray player without any trouble.
Detailed Steps to Play Blu-ray Disc and Folder on Windows 11
Step 1. Install and Launch Free Blu-ray Player
The free trial version is available for every user. You can directly click the "Download" button above to download the setup file and follow the instructions to install Acrok Free Blu-ray Player on your Windows 11 PC. After finishing the installation, you can launch the program on Windows 11.
Step 2. Connect the Blu-ray Drive and Insert Blu-ray Disc
If you want to play Blu-ray disc, you will firstly need to connect an external Blu-ray drive with your computer USB ports, and then insert the Blu-ray disc into the Blu-ray drive.
Step 3. Load the Blu-ray Disc to the Program
On the main interface of Acrok Windows 11 Blu-ray Player, there are three big icons: "Load Disc", "Add Folder" and "Add Files". To open Blu-ray disc/BDMV folder/Blu-ray ISO, you need to click on "Load Disc". The "Add File" option is to play common video files such as H.265/HEVC, MP4, MKV, MOV,WMV, VOB, etc.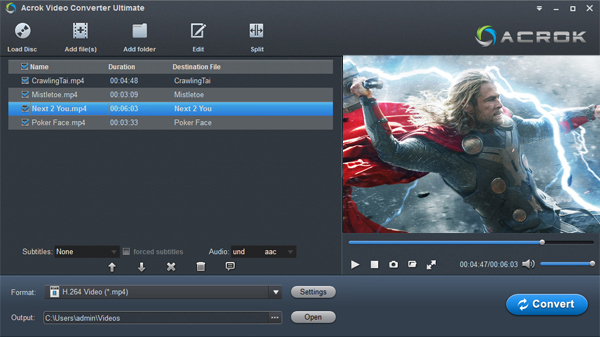 Step 4. Start to Play Blu-ray Movie on Windows 11
When this program finished loading the Blu-ray disc, you can see the menu below. Before playing, you can select another title, chapter, subtitle track, and audio track that you want to display. After that, you can click the "Play" icon to enjoy your Blu-ray movie on Windows 11 computer.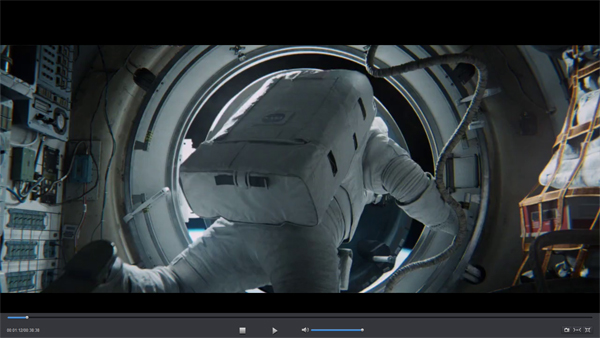 These are all steps to play Blu-ray on Windows 11 with this Free Blu-ray Player for Windows 11. After the installation of this Blu-ray player software, you can enjoy almost any Blu-ray movies regardless of protection and restrictions embedded in the disc with 4 steps. So what are you waiting for? Welcome to download and take a try.
How to Open the Blu-ray ISO Files on Windows 11?
Now, many Blu-ray fans prefer to back up their Blu-ray movies by creating the ISO image Files. Blu-ray ISO usually contains all the contents of a Blu-ray disc, and it can be used to replicate Blu-ray Disc to computer hard drive for a backup or further creation to discs. But, this doesn't means you can open and play the ISO file on computer natively.
The Free Blu-ray ISO Player
To play the Blu-ray ISO file, you must have a Blu-ray ISO player. Here, we will recommend the Acrok Free Blu-ray Player to you. As the name suggested, it is a Blu-ray player with the ability to play Blu-ray discs. But it also can act as a Blu-ray ISO player and BDMV player, which means you can enjoy Blu-ray image files and Blu-ray folder on computer. With the help of Acrok Blu-ray player, you can enjoy the Blu-ray movies on computer at ease.
Tip: To enjoy the Blu-ray ISO images, you need to install a virtual Blu-ray drive on your computer first, or right click the ISO file to open it in Windows 11 System Resource Manager.
Step 1. Download and Install Aceok Free Blu-ray Player
First, download the setup package from the button above and install Acrok Video Converter Ultimate on your Windows 11 PC. Then, launch the program after the installation ends. The interface is shown as below: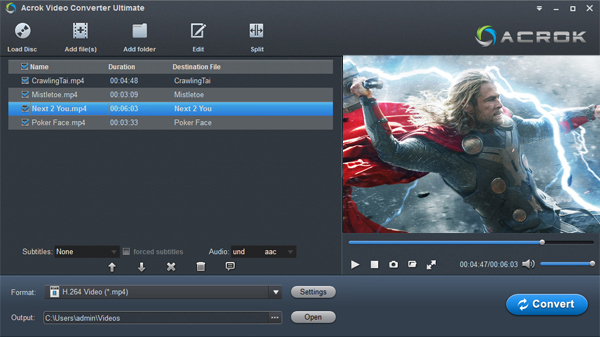 Step 2. Load Blu-ray ISO image to Virtue Drive
Now open the virtue Drive on your computer to load the Blu-ray ISO image file.
Step 3. Open the ISO Files
Go back to the interface of Free Blu-ray Player. And click the "Load Disc" button to open a browse window where you can find the virtue drive.
Step 4. Play the ISO Files
Waiting for several seconds, a Blu-ray menu will come up. Here, you can play the ISO files directly or select the chapter, subtitle, audio track and other titles.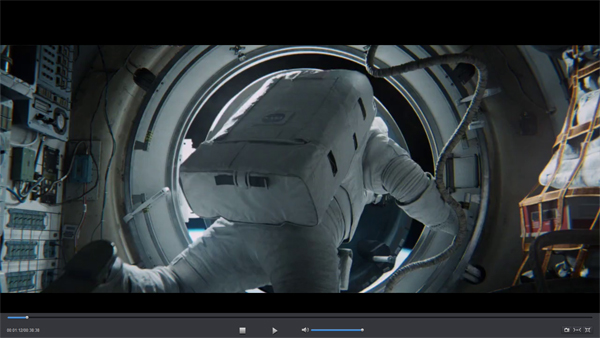 Best Free Blu-ray Virtual Drive Software
No 1. Virtual CloneDrive
The functions of the Virtual CloneDrive is same as of a physical CD/DVD/Blu-Ray drive but the difference is that this drive is not physically present in your PC. It's help you to create a virtual CD/DVD/Blu-Ray drive on your PC.
No 2. VirtualDVD
VirtualDVD is a free and lightweight virtual Blu-ray/DVD/CD emulator application. You can easily create virtual Blu-ray/DVD/CD drive on computer and then mount the Blu-ray/DVD/CD disc images easily. This program supports various image formats including ISO, CUE, ISZ, LCD, PDI, etc.
No 3. Daemon Tools Lite
Daemon Tools Lite is a free CD/DVD/Blu-ray disc emulator software for both Windows and Mac. It can make image files of CD/DVD/Blu-ray disc on your computer. One of the amazing feature is that the reading speed of virtual disc is very fast.