Are you searching the way to transfer and play Blu-ray movies on Windows tablet? In this article we will share the best way to rip Blu-ray disc, ISO file to Windows tablet or Windows 8.1 OS best supported format.
"I have a bunch of Blu-ray's that need to rip to stream on my Windows tablet for holiday days later. At the moment we are trying to use some software to handle them, but for most of the Blu-rays, they can't be converted. How can I rip and put Blu-ray onto Windows tablet? How can I play Blu-ray on Windows tablet?"
It is a great way to watch movies on the go with the Windows tablet. However, it is not easy to transfer Blu-ray movies to Windows for watching. You can't play Blu-ray on Windows tablet directly due to the Blu-ray protection, so, the first thing you'll need to do is to rip Blu-ray to common video formats like MP4, AVI, etc. for Windows tablet.
Blu-ray to Windows tablet ripping program makes it possible to circumvent the built-in disc restrictions on an encrypted Blu-ray and convert the movie content to a file suitable for whatever types of Windows tablets you might have. Today, we'll take a look at Blu-ray Ripper for Mac/Windows, a powerful and flexible program that integrates great video quality and blazing conversion speeds in Blu-ray ripping to a Windows tablet/Windows 8.1 optimized format. It also gives you the ability to convert Blu-ray movies to formats that can be used on tablets, smartphones, and portable media players.
How to convert and play Blu-ray on Windows tablet?
The guide below describes how to convert Blu-ray for Windows tablet no matter your Blu-rays are home-made or purchased, in an easy way that even a computer novice could follow.
Step 1: Insert the Blu-ray movies
Insert your Blu-ray disc into your Blu-ray drive and launch Blu-ray Ripper, it will bring up a window that looks like the window below. Now click the "load Blu-ray" icon to import the Blu-ray movies that you want to rip for Windows tablet, this Blu-ray to Windows tablet converter will scans the Blu-ray for the titles it contains. It also supports Blu-ray ISO files and folder.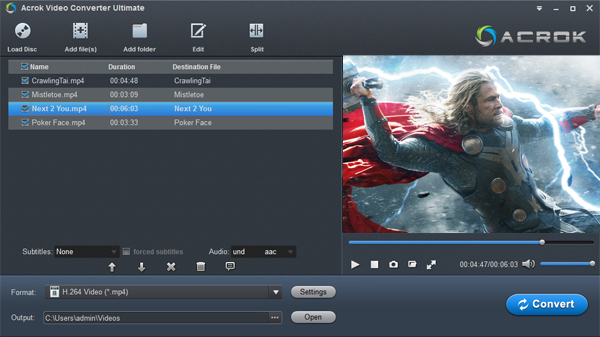 Step 2: Choose Windows tablet Preset
Click on the format bar, this will bring up format pane to choose the output file format. Here we're ripping Blu-ray exclusively to play on the Windows tablet, you can choose MP4 format as common videos, it is well supported by Windows tablet, or you can select Windows devices under "Windows" category.
The Blu-ray Ripper app not only rips Blu-ray to Windows tablet, it also comes with a group of preset options to optimize the Blu-ray for other media devices/applications like tablets, Windows phones, iMovie, iTunes, FCP, etc.
Step 3: Rip the Blu-ray Movie on Mac/Windows
When you're all set, click on the "Convert" button at the lower right corner of the window and allow this Blu-ray to Windows tablet converter to do its magic! You should now see a progress bar that will indicate how long it will take to rip and convert Blu-ray to Windows tablet format.
The rip begins! Again, this process can take a while, depending on the length of the Blu-ray files and the hardware of your computer.
Step 4: Copy the converted Blu-ray movie to Windows tablet
Connect your Windows tablet to PC, and then copy converted Blu-ray movies into Windows tablet, then you can play Blu-ray on Windows tablet freely. Enjoy!
Tags: Blu-ray to Windows tablet, play Blu-ray on Windows tablet, convert Blu-ray to Windows tablet, rip Blu-ray to Windows tablet