In this article, we will show the way how to import and edit 4K H.265/HEVC in Premiere Pro CC. If you just got some 4K H.265 footage from camcorder, camera, iPhone, websites and wanna work H.265 files in Premiere Pro CC any version, read on. Working with H.265 files can be taxing on your computer, especially if you don't have the most powerful machine to edit on. Based on our tests, it looks like Premiere Pro CC has to create a lower resolution proxy file to display in the NLE while you edit, so you have to wait for the proxy file to be created before you can edit any 4K footage. In this process, it will cost some time. What's more, the H.265 encoded files as a deliver format can't be supported well by Adobe editing software. We need a workaround to get Premiere Pro CC ingest H.265 video beautifully.
H.265 to Premiere Pro CC importing problems
H.265 no sound Premiere Pro CC 2015
Adobe Premiere Pro CC 2015 what an awesome product!!! Love it. Footage H.265, AAC, 30FPS, 6 audio channels. I have no sound. Audio shows just one channel but nothing in the file. Thought Premiere Pro CC 2015 supports MP4. Do I miss a codec? Can I install one? I run the Software on iMac 10.11.3 1024 MB, 12 GB ATI HD. – clarence williams
H.265 video not recognized by Premiere Pro CC 2017
I just downloaded the free edition of Premiere Pro CC 2017 I've recorded a couple videos and I am able to view each one of them individually on windows movie maker, however, when I try to insert them to Premiere Pro CC , the the 4K H.265 files do no appear. There is also and issue that comes up everytime I boot up Premiere Pro CC , a window with "Quick Time Decoder initialization failed". Is this the reason that I cannot see my MXF (H.265/HEVC codec) files? I'd appreciate any help y'all can offer. – GERALD HALL
Can't play H.265 videos in Premeire Pro CC 2018 smoothly
I've recently begun shooting video with Canon XF705. I can record video in MXF but wanted to check the better encoder H.265/HEVC. I'm working with Premiere Pro CC 2018 and it does not recognize the H.265 file. How to edit Canon XF705 videos in Premiere Pro CC? Any and all advice is welcome and appreciated. – Eric Papa
Why Premiere Pro CC fail to load 4K H.265 video?
It is well know that MP4, MKV or MXF is a contaier file format which can store video, audio encoded with various different codec. However, as for Premiere Pro CC supported file formats, you may find it only support to load files with the format of H.264, MPEG-2, DPX, CIN, EXR, QuickTime, and AVCHD. If the video files are encoded with other incompatible video or audio codec, you will definitely fail to import video files to Premiere Pro CC.
Convert H.265 for Premiere Pro CC editing
To get all all H.265 files work with Premiere Pro CC (2013, 2014, 2015, 2017, 2018, 2019, 2020), you will need to perform a video codec transcoding process. Here, a professional solution called Acrok Video Converter Ultimate for Mac is highly recommended to you, with this simple to use application, you can easily and efficiently transcode unsupported H.265 files encoded with all the codec listed above to Premiere Pro CC favorable H.264, QuickTime or MPEG-2 codec for fast and smooth post video editing workflow. Have various unsupported media types such as MP4, MXF, AVI, WMV, MOV, etc to load into Premiere Pro CC for editing, never mind, the enhanced media compatibility of our program make it is pretty easy to complete all those incompatible file to Premiere Pro CC with just one click. If you are Windows user, please try Acrok Video Converter Ultimate for Windows.
Free download H.265 to Premiere Pro CC Converter
Acrok H.265 to Premiere Pro CC Converter Features – Transcode H.265 to Premiere Pro CC native format – Convert H.265 to iMvoie, FCP X, Avid Media Composer, Sony Vegas Pro, etc. – Rip and convert Blu-ray/DVD to any format any device for playing on the go – Transcode MXF, MP4, MOV, MKV, AVI, WMV, etc., to any codec/format
Step by step to Transcode and Imort H.265 Files to Premiere Pro CC
Step 1: Load H.265 files into Acrok program.
Start the H.265 to Premiere Pro CC Converter  on your Mac computer, click "Add File" or "Add folder" to load H.265 video files into the H.265 Video Converter.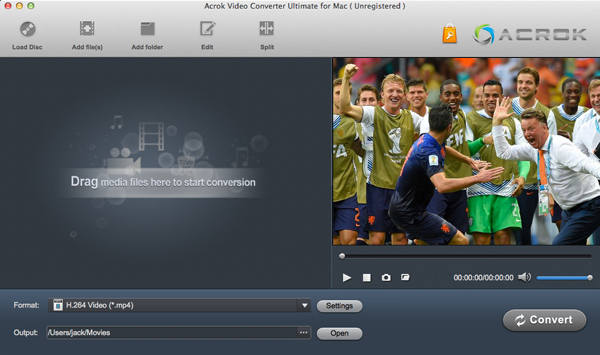 Step 2: Specify output file format.
Click "Format" bar, from its drop-down list, select Premiere Pro CC best supported editing codec such as "Adobe Premiere AVC (*.mov)" from "Editing Software" main category menu extended list.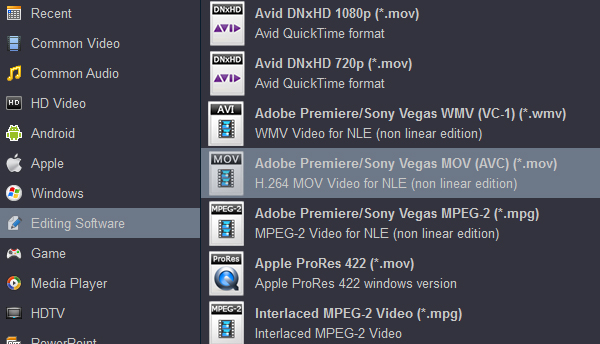 Step 3: Edit video. (Optional).
Before loading your H.265 footage into Premiere Pro CC for professional video editing, you can complete some basic video editing task with the program's built-in video editing function. Check an item to active the "Video Editor" function, then click the pencil like icon on the top tool bar to open the "Video Editor" window, you can trim video length, crop video black bars, add watermark, apply sepcial rendering effect, remove/replace audio in video, etc.
Step 4: Begin the conversion process.
After all the settings are done, click right-bottom "Convert" button to begin the conversion from H.265 video files to Premiere Pro CC H.264 conversion process. Then you will have no problem to import any video into Premiere Pro for fast and smooth post video editing.