With the best free Blu-ray ripping software, you can back up your movie collection and save it digitally for easy and convenient streaming around your home. Now, please read the Blu-ray Ripper reviews 2022 to rip, convert and back up your Blu-ray movies with easy.
How to rip and convert 4K Blu-ray to 4K MP4 for playing on my 4K Android TV? How to compress large Blu-ray files for watching on my Galaxy Tab S8? If you plan to get a best free or paid Blu-ray Ripper in 2022, please keep reading our Blu-ray Ripper reviews here.
If we move back five years Blu-ray has always been the best storage medium for movies and still many people own Blu-rays. Yet, the Blu-ray can only play on a Blu-ray player on TV or computer. If someone wants to watch movies out of home at offices or other places that store on a Blu-ray, one can't view.
This is where the Blu-ray ripper solution comes in handy that allows you to fix this problem by ripping Blu-ray discs (movies, images) and back up to the computer or cloud platforms.
The best Blu-ray ripping software not only allows you to copy the exact Blu-ray but at the same time, it allows you to back up your movies to a computer with a notable feature of compression. Unlike Blu-ray copy software which only allows copying the entire files bit by bit. Blu-ray ripper also enables converting files to various formats for instance Blu-ray to MP4, MOV, MKV, M4V, FLAC, AAC, MP3, WMA and whatnot.
There exist few best Blu-ray rippers programs available in the market both paid and free versions. The feature set is what differentiates them. Some are aimed at ripping movies and keeps their subtitles, menus, and other information intact. While others are better suited for ripping different data. One such industry hallmark is Acrok Video Covnerter Ultimate that caters to all your Blu-ray ripping needs.
Let's not deviate, and start looking at the list of the best Blu-ray ripper software programs for 2022 that are handpicked and properly tested.
The best free Blu-ray ripper is Handbrake
Handbrake – an open source program that can save videos in virtually any format, with no limits on the number of files you can back up, or the length of the moives. However, it can't handle discs protected by DRM, so we've also gathered together a collection of other free Blu-ray rippers with different feature sets, so you can choose the best one in 2022.
Some Blu-ray rippers are better suited to ripping movies, keeping subtltles, menus and other details intact, while others work best for ripping other data.
The best Blu-ray ripper overall is Acrok Video Converter Ultimate
If you're interested in backing up your Blu-ray collection and don't want to be held back by time restrictions or slow processing, Acrok Blu-ray Ripper is the best tool we've tried. It isn't free like the tools below, but you get a lot for your money, and it can even handle Blu-rays at are encrypted, region-locked or unplayable. It can create videos files for playback on virtually any device too, with preset profiles so you can watch your Blu-ray movies on may devices, such as iPhone 12 Pro Max, Galaxy Note 20, iPad Air, iPad mini, Apple TV, Smart TV, media player software, etc.
Free download and try Acrok Blu-ray Ripper
1. HandBrake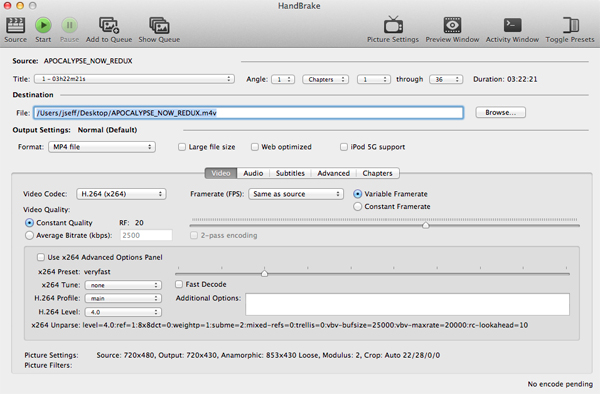 Rip Blu-rays and convert videos to any format
Operating system: Windows, macOS, Linux
Reasons to try: Conver homemade Blu-rays and converts video files; Can queue up multiple conversions; Includes ready-made presets
Reasons to avoid: Can't handle DRM
HandBrake is not only a free Blu-ray ripper (or video transcoder, as it prefers to be known) but also open source, so it's totally free in every sense of the word.
More than a decade in the making, the software finally reached version 1.0.0, It is – or at least looks – a little more complicated that some of the others we're looking at here, but don't let that put you off. By default there's no support for bypassing copy-protection, but this is something you can get around with a little research (bearing in mind IP laws in your country).
As with other programs, there are a number of presets ready for you to choose from, but you can also manually tailor each ripping session if you prefer. If you're working with Blu-ray ISO images or Blu-ray disc folders, it's possible to queue up multiple encoding jobs to run consecutively to save having to be around when each finishes. The sheer level of control makes HandBrake well worth a try.
2. Blu-ray Master Free Blu-ray Ripper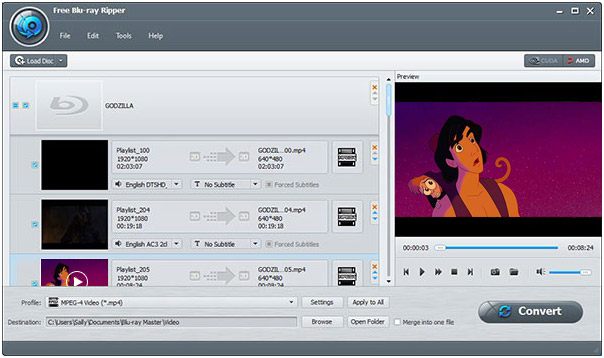 Blu-ray ripping made easy, with step-by-step instructions
Operating system: Windows
Reasons to try: Clean, clear interface; Can rip a whole Blu-ray or just parts; Ready made device profiles
Reasons to avoid: Some features require activation
Blu-ray Master is a professional free Blu-ray ripping software, which has the capability of helping users rip homemade Blu-rays to common videos, 4K and 1080p HD videos, such as MP4, MKV, MOV, AVI, WMV, FLV, M4V, HD MP4, HD MKV, etc. So you can watch your Blu-ray movies with a multimedia player or everywhere you want. Besides, this software supports batch conversion which will greatly save your time and enrich your leisure life.
Blu-ray Master is a name synonymous with powerful, high quality freeware, and Blu-ray Master doesn't let the side down. Its free Blu-ray ripper boasts a clean, clear interface is a joy to use, and you're never left feeling in any doubt about what you're meant to do.
This software can help you customize the output settings. Video Settings like Encoder, Frame Rate, Resolution, Aspect Ratio, and Video Bitrate; Audio Settings includes Encoder, Sample Rate, Channels, and Audio Bitrate. This free Blu-ray ripper lets you provides 3D settings. You can add Anaglyph 3D or Split Screen effect to your Blu-ray movies. Meanwhile, you can edit the Blu-ray movies with multiple tools like Clip, Crop, Effects, Watermark, etc. to make your Blu-ray file perfect.
Fire up the software, switch to the Blu-ray section and choose your drive from the list. After disc analysis you'll need to indicate which of the video track you're interested in. You can even take things a step further and clip out segments of a video to rip rather than grabbing the whole thing. Shortcuts at the bottom of the screen provide access to popular output formats (MP4, MKV, WMV, device-specific formats); just make your selection, hit 'Convert', and you're done.
Unfortunately, although it doesn't contain extra bundled software, the latest version of Blu-ray Master Free Blu-ray Ripper adds a watermark to ripped videos. If you can live with that, it's one of the most convenient Blu-ray rippers around.
3. MakeMKV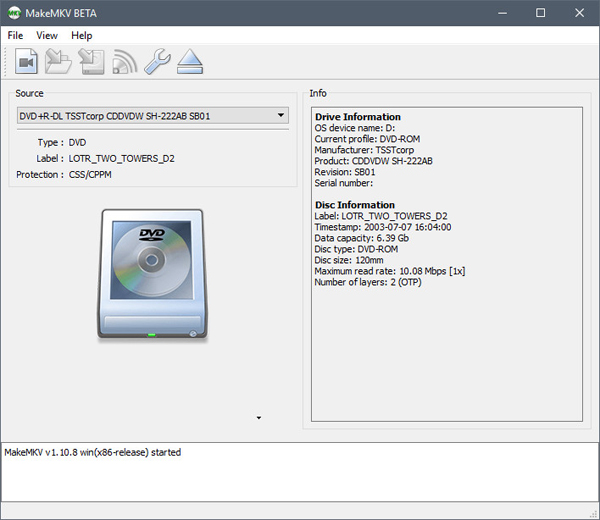 Rip Blu-rays without any awkward configuration
Operating system: Windows, macOS
Reasons to try: Extremely easy to use; Fast Blu-ray ripping; Works with DVD Discs
Reasons to avoid: Few customization
It's not flashy, but MakeMKV delivers where it matters most. This Blu-ray ripper is thoughtfully designed, and makes backing up your movie collection as fast and straightforward as possible.
If you've used free Blu-ray ripping tool before, MakeMKV might look a little familiar – it bears more than a passing resemblance to Blu-ray Decrypter. As well as handling Blu-rays, the program, is also capable of ripping DVD discs, and the process works in exactly the same way in each case (although it's worth noting that Blu-ray ripping is only be free while the program is in beta).
The great thing about MakeMKV is that there is so little to think about. Fire up the software, analyze your Blu-ray discs, choose which of the track you would like to rip, indicate where the output file should be saved, and then hit the 'Make MKV' button. That's really all there is to it. There's no messing about, no complex configuration – just analyze, rip and go. Unfortunately, Windows doesn't come with its own dedicated Blu-ray ripping tool, so you'll need to look elsewhere for a tool to do the job.
4. Aurora Blu-ray Copy
Limited options, but handy if you need to rip a Blu-ray in a hurry
Operating system: Windows and Mac
Reasons to try: Rips Blu-rays; Save movies in their original formats
Reasons to avoid: Few customizable settings; Only ripping component is free
Aurora is an unusual case. The full Aurora suite isn't free of charge, but its Blu-ray ripping component is. When you download the software, it installs as a trial version, but the Aurora – which you need for Blu-ray ripping – remains free forever.
If you are looking for a completely free and simple Blu-ray covnerting tool then check out Aurora Blu-ray Copy. It's a free Blu-ray ripping software for decrypting and copying Blu-ray discs to ISO files. It only does one thing which decrypt any Blu-ray and make an exact copy of BD as ISO file. It is a very limited Blu-ray decrypter but is fast when used for Blu-ray copying and decrypting. There are no options to select in this software so it is the simplest of all and does one thing. If you don't want many functions and don't want to invest money in paid Blu-ray decrypters, then this Blu-ray ripper is suitable for you. It is cross platform compatible and works on Mac and Windows 10.
The free portion is rather limited, allowing you to rip discs in Full Disc or Main Movie modes only. This means that the free version is nowhere near as versatile as the other programs we've covered here, but it still has its place.
For example, it can be useful if you want to extract the video files from a disc and maintain their original formats when transferring them to your hard drive. You're then free to import the files into another program for further work if you want, or just use your favorite Blu-ray software to watch the videos without the need for a disc to be inserted.
5. Acrok Video Covnerter Ultimate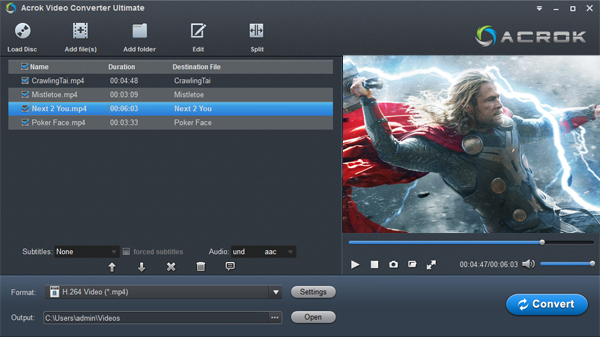 Not only for movies, this Blu-ray ripper can handle data discs
Operating system: Windows, Mac
Reasons to try: Super fast 4K and 1080P Blu-ray ripping; Ready-made conversion profiles; Can rip Blu-ray/DVD/Video to any audio format
Reasons to avoid: Confusing marketing
When you install the free version of Acrok Video Converter Ultimate, you'll notice that it's actually in trial mode. This doesn't lacks a few of the features found in the paid version, you'll have a powerful Blu-ray ripper on your hands that you can use indefinitely.
Acrok Blu-ray ripping software can be used to rip directly from Blu-rays, but it also works with ISO images, and folders of Blu-ray files. Once your input has been analyzed – a process that doesn't take long – you can take your pick from a raft of ready made profiles. These profiles help you to quickly output a video that's suitable for playback on specific mobile devices or, say, ideal for uploading to YouTube, Vimeo, TikTok, Facebook, Twitch, etc.
Let me take BD+ as an example, according to the statistics in Wikipedia, only DVDFab, Leawo and BlindWrite are listed to be able to decrypt this encryption. But by now, any BD+ can surely not be a headache for this newly upgraded free Blu-ray decrypter – Acrok Video Converter Ultimate, nor can any other Blu-ray copy protections.
It is remarkable, because seldom Blu-ray decrypting freeware can support BD+ protected Blu-ray discs, and even some costy Blu-ray decrypters lack the compatibility to all new and complicated Blu-ray encryptions.
You can choose to rip the built-in subtitles or embed your own, and you can select which audio tracks should be included; it's all beautifully simple and pleasingly fast. The software's confusing marketing might lead you to believe it can only rip five minutes of video, but after much research we can confirm that isn't the case.
Below are some remarkable features of Acrok Video Converter Ultimate;
1:1 Clone Blu-ray to ISO & Copy Blu-ray : You can copy the main or full title content of the Blu-ray to ISO, Blu-ray to MKV, and Blu-ray to a video folder with optimal content quality.
Old/New/Kids Blu-rays Support : Whatever Blu-ray you own, it can produce an entire 1:1 backup. Furthermore, it comes with the new title checking mechanism which can access and rip workout Blu-rays, music Blu-rays, movie and TV series Blu-rays easily. It also allows the backup of the unplayable Blu-rays having damages, scratches, and smudges, etc.
Compress 4K to 1080P : Work with Enlarger AI to Upscale Video from 1080p to 4K
Rip Blu-rays in Batch, Super-Fast and Professional – The only Blu-ray Ripper with Level-3 Hardware Acceleration support that can rip Blu-ray discs to digital in just 25 minutes at (300-500) FPS and quite faster than its competition.
Extraordinary Video Audio Quality : With the "Yadif Double Frames" De-interlacing Engine, you can scan Blu-ray videos to improve the output quality. This feature can help you in delivering the highest possible quality of image than the original in Blu-ray. Further, you can balance quality and file size according to your needs.
Vast Format Supports : The software comes with 350+ profiles and you can convert ISO image or Blu-ray to MP4 (H.264/HEVC), MOV, MPEG, MP3, AVI, WMV, FLV, etc, and backup Blu-ray to HDD/USB/NAS/Plex. The output can be viewed on a computer, Xbox Series X, PlayStation 5, HDTV, Android, iPhone, iPad, etc.
Compare Full Trial and Paid Versions : Your Acrok journey begins with a 30-day full trial, where you are free to experience the extensive capabilities of this software.
Built-in Blu-ray Video Editor : The best thing is you can perform basic editing operations such as crop, trim (set start and end of the video), and merge.
How to rip and convert Blu-ray (disc, ISO, folder) with Acrok?
There are many ways to rip a Blu-ray to a digital video or audio format, but if you're looking for the most straightforward option, Acrok Video Converter Ultimate is easy. Besides, you probably already have Acrok on your computer (and if you don't, you should). Here, we'll show you the quick and easy way to rip Blu-rays to your PC using Acrok Blu-rray ripping software.
Step 1: Get Acrok Video Converter Ultimate
Free downoad and install Acrok Video Converter Ultimate as the best Blu-ray Ripper onto you computer. You will see the interface of the software.
Step 2: Load Blu-ray
It's time to load the Blu-ray you wish to convert. Which kind of Blu-ray to video? If the source is a Blu-ray disc, you can insert the disc to your optical drive and Acrok will load it automatically. If the source is a Blu-ray folder or ISO file, you can simply click the big "Add file" icon found in the middle of the UI and navigate to the source. Or you can also drag and drop the folder or ISO to the main interface to load it.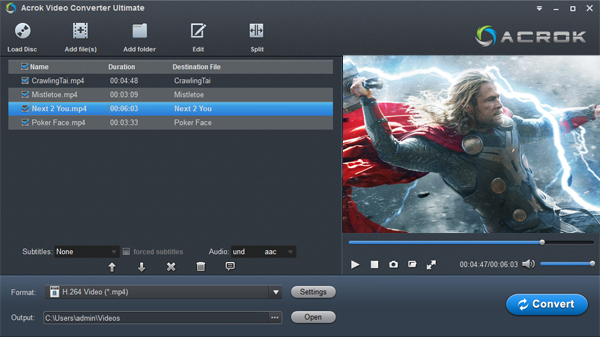 Step 3: Choosing a Profile
Here, under the option of "Format", you can go to the "Common Video" category and choose one of the many available formats at your disposal. If you want to get a bit more specific, you can use the various filters to only show 4K or 12bit formats, for example. "Convert Blu-ray to MP4" with this Acrok Blu-ray Ripper is very easy.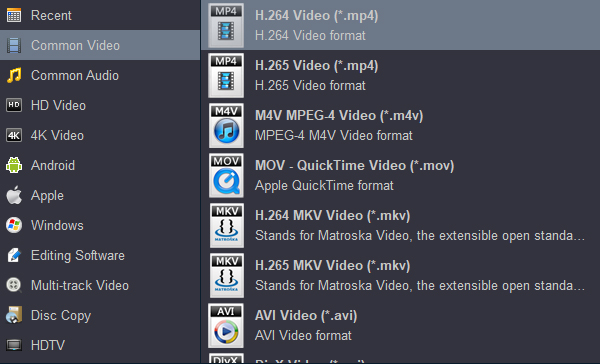 Also Format, selection, you can also click the "Web Optimized" section. if you would rather convert Blu rays to MP4 for uploading to Facebook. Meanwhile, going to the "Android" and "Apple" tab will let you convert Blu-ray for playing on smartphones, tablets, gaming consoles or other compatible devices. If you want to use this option, simply click on your device's brand and then model.
Step 4: Advanced Settings
Customizing videos in Acrok is quite simple and can be done via the "Settings" menu. For example, in the first section of the menu below you can change the video resolution, bit rate, frame rate, codec, encoding method or split it. If you're already familiar with video customization you can make use of the Bits/Pixel slider to achieve the desired quality to size ratio. Alternatively, you can also manually add specific values in the fields marked "Bit Rate" and "Output Size" during the Blu-ray ripping and converting process. The audio settings work in a similar way, with the menu allowing you to choose the sample rate, bit rate, codec or channels of the video.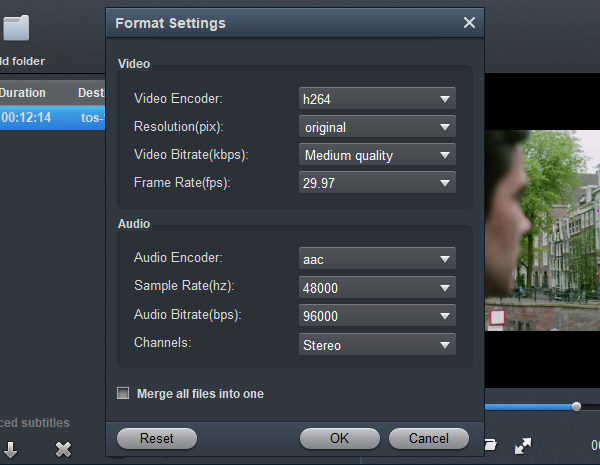 Step 5: Video Editing
If you want to edit Blu-ray files, there is another option available – "Video Edit". Here, let me show you how to add text, image, add subtitles with this Blu-ray Ripper. And how to change video properties, trim/crop videos, etc. based on your needs.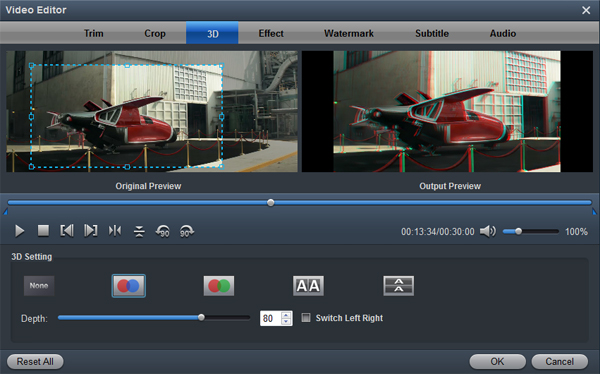 Besides Blu-ray to common format conversion, these settings also allows you to convert 2D videos to SBS 3D. If you used the 3D filter earlier when picking the format, you'll see an additional section in the "3D" menu known simply as 3D. Simply pick one of the options from the dropdown menu to get started and then adjust the gain and visual depth of the output by using the two sliders.
Druing the Blu-ray to video conversion, you can also quickly change the name of the video, select the audio tracks and subtitles you want to be added to the output, as well as the chapters and titles you want to rip. Moreover, there's also a handy dropdown menu that lets you quickly choose a quality present without having to access the Advanced Settings menu anymore in this top Blu-ray vonverting software.
Step 6: Choosing the Output Destination
There are three output destination provided by this Blu-ray Ripper. First, you can use the bottom left "Output" menu to quickly choose a local folder or the mobile device you want to send the converted video to. It's worth mentioning that only MP4 supported formats can be transferred directly to mobile so we can't use the option in this case.
Step 7: Starting the Conversion Process
Now that everything else has been taken care of we can go ahead and fire up the Blu-ray Ripper. To do this, simply click the "Convert" button found in the lower right corner of the UI.
Final Thoughts
We hope this page has helped you learn more about how to choose a best Blu-ray Ripper in 2022 and how to rip and convert Blu-ray to a common video format with Acrok Blu-ray ripping software. As the software is pretty straight forward, after playing around with it once or twice, you'll get the hang of it.
You may also need to read: